DHM advocates a triple helix approach, bringing together key stakeholders from policy makers, industries, academia, medical practitioners and the medical providers, to propel Malaysia into the information technology age. It recognises the importance of a good alignment of policy, innovation and research to maximise the impact and minimise miscommunication and duplication of efforts.
DHM has a very clear vision of advocating for a future health that is accessible, available and affordable. It aims to contributes to the country's social and economic development through a strategic leadership role in digital health.
VISION
Ubiquitous, safe, effective, patient centric quality healthcare that is available, accessible and affordable for all
MISSION
To establish an inclusive digital healthcare ecosystem in the country

To set up an expert group to advise, facilitate, regulate and spearhead the adoption of digital health.

To contribute to the nation's economic and social development through relevant digital policy, research and development of innovative digital healthcare solutions.

To lead and facilitate digital health innovation through industry collaboration (open data architecture and standard).

To establish an intuitive and platform in designing and developing state-of-art, simple and world-class connected healthcare solutions

To develop into a one stop centre for domestic and international digital healthcare stakeholders.

To establish a centre of excellence for policy, legislation and regulation in digital health. To become the preferred centre for foreign & local stakeholders in digital healthcare solutions
DHM identified 4 crucial areas in digital health which we refer to as the 4 Key Strategic Pillars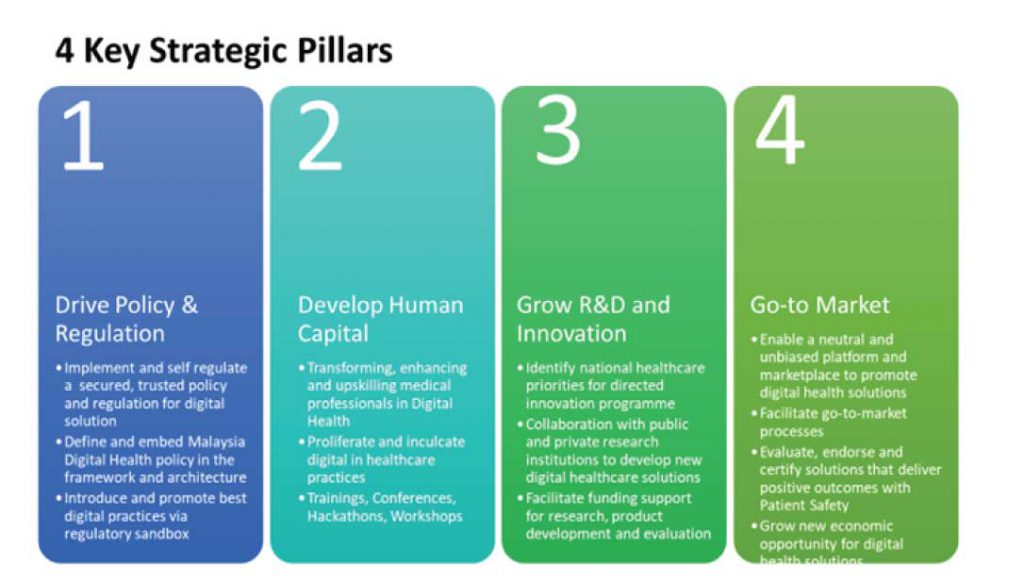 Consequently, four Special Interest Groups (SIGs) have been created to better serve the members and the industry. These SIGs include focus on various considerations to be borne when developing a digital health ecosystem.
SIGs
Policy & Regulation

Knowledge Dissemination / Networking

R&D, Clinical Trials

Certifications, Go-to Market & Manufacturing
The Telemedicine Conference is DHM's flagship event. It was an annual event started in 2015 with a 5-year plan in phase 1, as indicated by the respective annual themes. DHM committee is now working on the second 5-year plan for the conference.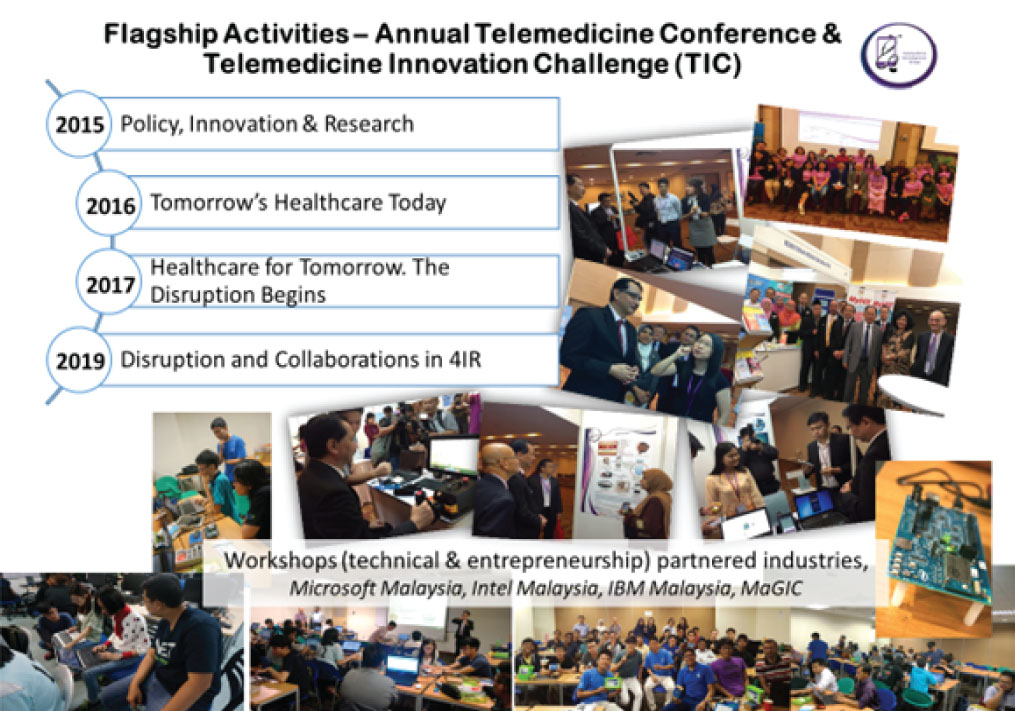 DHM has also been organizing the annual Telemedicine Innovation Challenge (TIC) to identify and support scaling-up of interesting, innovative and economically viable digital health ideas and solutions.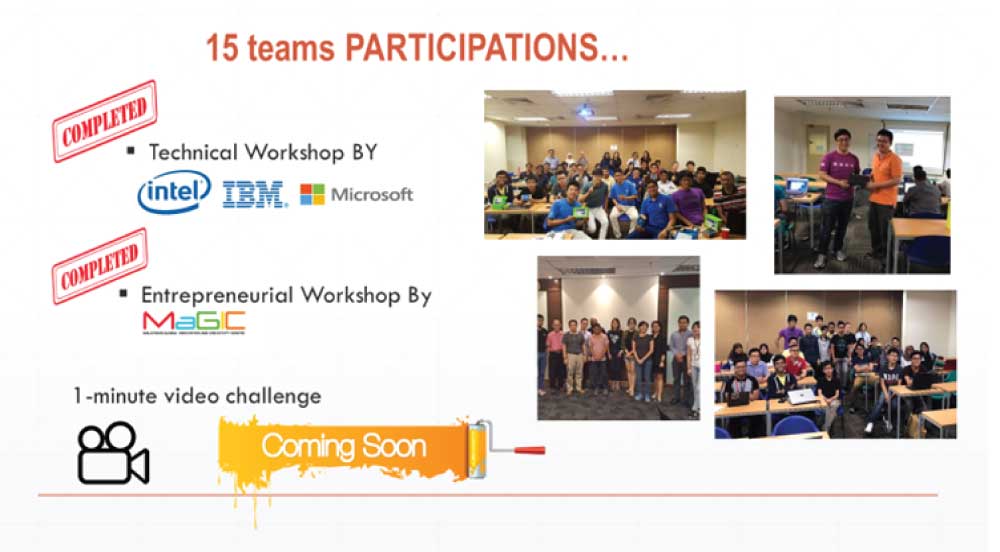 The triple helix approach is well received by the stakeholders and DHM has currently more than 70 members from various companies, public agencies and academic institutions.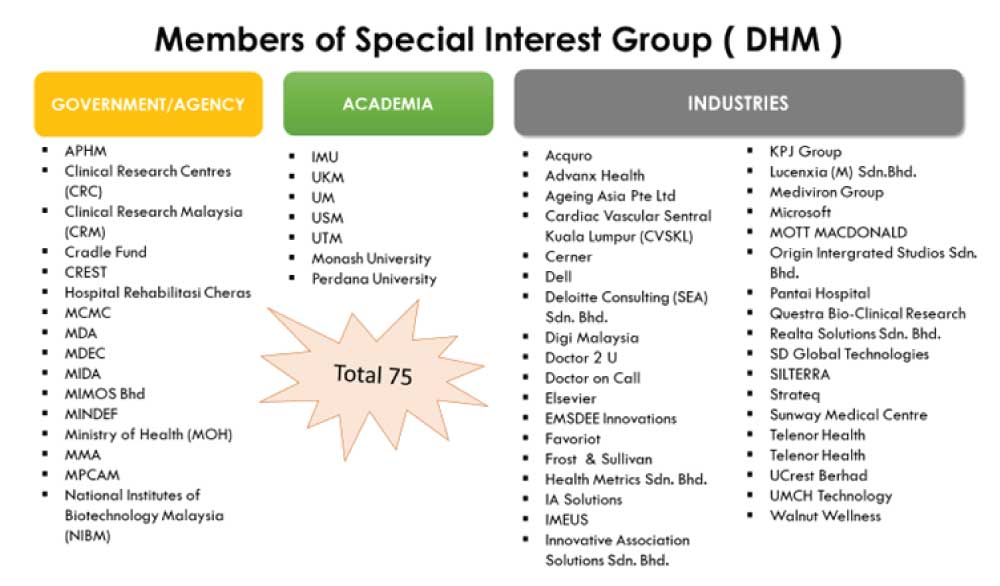 DHM is now evolving into an industrial lead organisation to be more nimble and responsive to the fast changing technology and landscape in digital health. Application has been submitted for DHM to become a not-for-profit association.